the Harbour Gallery Jersey
St Aubin St Brelade JE
The Harbour Gallery is the largest exhibiting, working & selling Art & Craft gallery in Jersey and the Channel Islands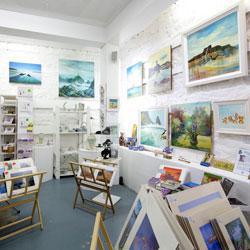 Mmanaged by the Not for Profit Jersey Charity, Art in the Frame Foundation. Open 7 days a week 10.00am – 5.30pm exhibiting the work of over 100 local artists and craftworkers, our patron is Lady Dalton.
Looking over the Bay of St Helier and nestling within the picturesque, charming harbour of St Aubin, whether by car, bus, Le Petit Train or a walk from St Helier, The Harbour Gallery is well worth a visit. It is open 7 days a week, 10.00am – 5.30pm, with free entry.
The Gallery Café & Deli is open from 9am to 5pm, 7 days a week. Please use the side door for out of Gallery hours access.
You can reach us by bus using the number 12, 12A and 15 from Liberation Station or Le Petit Train from Liberation Square.
Parking is available on the street, using a yellow disc or the public carparks, using a scratchcard located at the end of Le Boulevard, and behind the St Brelade Parish Hall. Parking is free after 5pm and before 8am, and all day Sunday. 12 hour free parking is available along the promenade towards La Haule slipway.
We have unisex toilets located on the first and second floors.