Parking
On-street parking in Jersey is paid for using paycards. There are no meters. Most car parks also require paycards. Paycards are not sold in car parks and so must be bought in advance. The only other type of paid parking in Jersey are a few car parks where you pay on exit. These are at the Elizabeth Harbour, the Airport and the Waterfront.
Most parking is charged from 08.00 17.00 Monday to Saturday, but there are some car parks that charge outside of these times. Paycards must be used in the RED and YELLOW zones and in car parks that use the Red C around the Parking symbol [see below].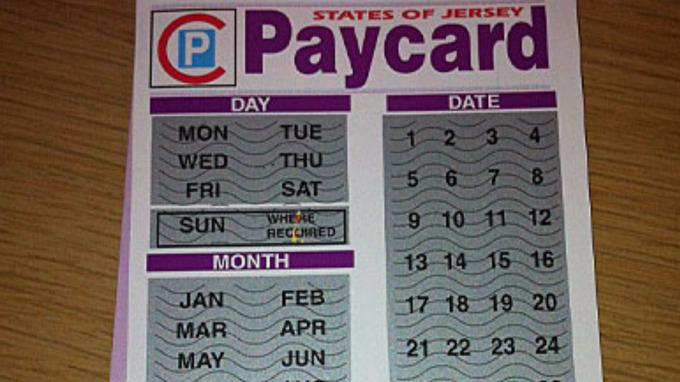 The charge for parking on the street is 1 unit per stay. The maximum time you can stay in a yellow zone is 20 mins and in a red zone is 60 mins. The charges and lengths of stay permitted vary in car parks so please look at the signs provided.
Where to buy paycards
Paycards are not sold in car parks other than Sand St. However, they are sold in most corner shops, supermarkets, post offices, garages, hire car firms, Jersey Tourism and anywhere else that displays the 'paycards sold here sign.'
If you are using more than one paycard, scratch them all exactly the same. For example if you arrive at 10am and want to stay 3 hours at 1 unit an hour, scratch all your cards to say 10am.If you make a mistake scratching the card, you have to throw it away and use another one.
PayByPhone parking
PayByPhone parking is new cashless parking service that allows you to pay for parking using your mobile phone.
It is available in all paying public car parks, for on-street parking and from Thursday 1 February you can use it for half price parking if you have an Eco-friendly parking permit.
If you use the PayByPhone service you can:
pay for parking without cash or paycards
pay from your vehicle when you park
extend your parking time from your phone
set up text reminders / receipts
Parking in Sand Street Multi Storey Car Park
You cannot use paycards in Sand Street car park. It has an automatic parking payment system is in place.
The new system allows you to pay for parking when you leave the car park, rather than when you arrive. This means you don't have to predict how long you expect to park and you can be flexible about staying longer if you need to.
How to use the new system
Drive into the car park and find a place as usual. Your car's number plate will be automatically registered on the system when you arrive. You have a five minute time allowance to park before you start being charged.

Make sure you make a note of your number plate because you'll need it later to pay.
Pay stations are located at the pedestrian car park entrances. When you return to the car park:
go to a pay station
key in the registration number of your car
follow the on-screen instructions to make your payment
the system allows you 15 minutes to exit the car park from the time you paid
The pay stations will accept payment by:
debit or credit card (not American Express or Diners Club)
Sand Street 'park smart' card
Sand Street UniTicket: five units or 10 units
For more information see The States Of Jersey Websit